Here's a peek at our curriculum choices this year! We are excited!
Kruiser (Kinder/1st Grade):
History/Bible/Literature (read alouds)
Sonlight Core A!
We are already loving this set. I bought the Instructor's Guide on E-bay, and then I found all the books on the list on various sites- Amazon used, Paper Back Swap, Half Price Books, etc. We are also doing the Create-a-Calendar and timeline.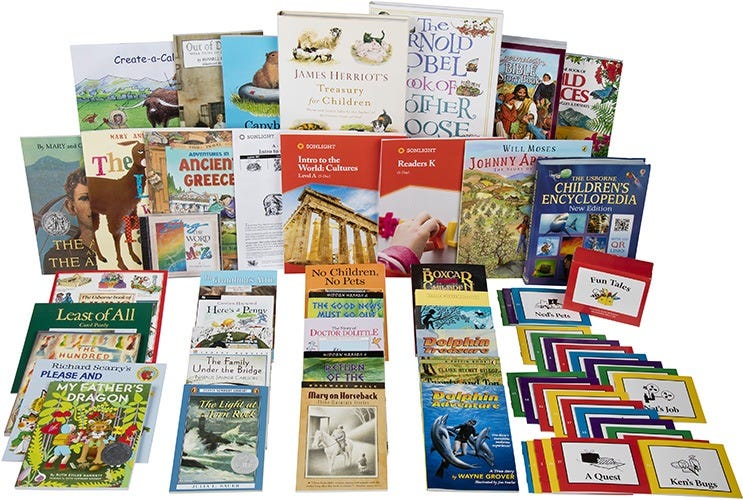 Math-
Right Start Math. Some online friends recommended this for a very hands-on curriculum. It's pretty teacher intensive, and pretty pricey, but I chose it because Kruiser is not writing well yet. I didn't want to stress him out with a workbook based curriculum. The other reason is because Math is my weakest subject, and I wanted a great script for myself. This is an award-winning program, and we really like it so far! We started with B, the 1st grade level, but we are going more slowly than it recommends. Some lessons take us 2 days to get through, which is fine with me!
ABeka. I just got the Phonics workbook, and we are still working through the Handbook for Reading from last year. We'll finish it before the end of the year though. I have tons of their old readers from my mom and various other readers as well. We just started the Kindergarten level handwriting book.
Science-
Apologia. This we do through our co-op, once a week. I read the chapter to him at home, and then he has one worksheet per week to complete. With most of those, he's dictating to me what to write. :) Our focus is on History this year, so this is just a fun add-on.
He also has a memory class and fun phonics class at co-op. And I pull other fun things for him to fill his workboxes- maze books, puzzles, random worksheets and learning activities.
Skipper (3 YO Tot School):
Skipper loves animals, so I figured this would be right up his alley! We do the letter art and ONE other worksheet from the weekly bundle each week. I also have one of those huge PreK workbooks from Sam's we pull from if he wants to do other worksheets. He is MUCH more prone to want to do worksheets/coloring than Kruiser was at that age.
The other resource I use is Easy Peasy All in One Homeschool. Getting Ready 1 has lots of links to fun vidoes on each letter. Getting Ready 2 has great "math" links to videos and internet games. We do one video/game per day. All free!
Skipper will also be going to co-op, where he will have stories, chapel, crafts, and also a memory class with big brother.
The other thing we do is "tot trays". I have 2 white shelves from Wal-Mart that hold 6 trays, just like these. I place different things out each week, and he chooses what he wants to work on with me. I will post some ideas in the future, hopefully, but this site has tons!